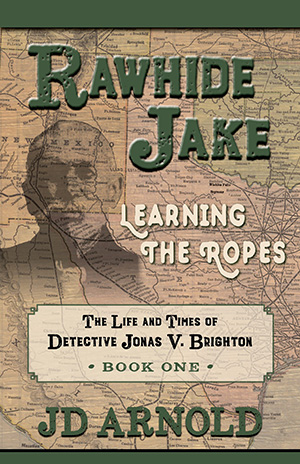 Rawhide Jake: Learning the Ropes is the first book in a trilogy on the Life and Times of Detective Jonas V. Brighton. Based on a true-life character (1847-1928), it rolls through the adventure of his time in the penitentiary, his first years as understudy to a young and lusty female detective named Jennie Hudson, and learning cowboying and stock detective work with his new partner, Wes Wilson, in northwest Texas.
He and Hudson work two cases. One ends up in controversy and the other makes national news as they solve the Doctor Perry Talbott case. After that Jonas relocates to Texas.
Brighton is a marksman with pistol and rifle, a skill he gained from his Civil War experience. He kills a fellow in self-defense, gains a reputation as a man to avoid, and his partner, Wes, gives him the nickname "Rawhide Jake." The two of them roam the countryside, eliminating rustlers, saving each other's lives more than once, and recovering stolen cattle until they receive orders to go their separate ways.
Rawhide Jake: Learning the Ropes was published in March 2022 by Five Star.
Amazon
Books-A-Million
Barnes & Noble
BookPeople
The Poisoned Pen
Rawhide Jake: Lone Star Fame, Book Two, is available now!
"It isn't often I have a chance to read good historical fiction, but on this one I've struck pay dirt. JD Arnold is a master storyteller… He's written a riveting, fast-moving, well-crafted story that had me hooked from the beginning. To borrow an old cliché, it's a real page turner. As for me, I can't wait for Book Two."
—Marshall Trimble, Arizona State Historian, True West Magazine's "Ask the Marshall"
"I love reading about the 'old West' and JD Arnold has created a beautiful and accurate picture of those early days. Rawhide Jake is the first in the series and I cannot wait to read Book Two. I was pulled into the story and so wanted to be there and meet all of the characters that were described. I would love this book to be turned into a TV show or movie. If you like western, Civil War-era history, or just good reading, then this book must be put on the top of your reading list—it is just that good."
—Trudi LoPreto, Reviewer, Readers' Favorite
"As JD Arnold's historical novel follows the life and times of the real Jonas Valentine Brighton, it provides a vivid story of the changing morals, challenges, and social order of the post-Civil War West. Arnold's exploration of Rawhide Jake's life, legacy, and reputation is an example of why historical fiction can prove much more compelling than nonfiction. The drama, motivations, and insights of Jake and other characters are nicely captured against the backdrop of ongoing confrontations that test their moral and ethical perceptions of their place in the world."
—D. Donovan, Senior Reviewer, Midwest Book Review
"For whatever reason, Jonas V. 'Rawhide Jake' Brighton is one of those 'shadowy' figures who has (for the most part) escaped the bright glare of historical research and writing. That's why it's exciting that JD Arnold has finally lit the lamp of illumination on Jake's life… Yes, it's historical fiction, but done so in an honest way that doesn't distort things. And the first book of his Life and Times of Detective Jonas V. Brighton is an excellent introduction to this Western mystery, a great story, well told."
—Mark Boardman, Features Editor, True West Magazine and Editor, The Tombstone Epitaph
"JD Arnold's debut novel on real-life stock detective Jonas 'Rawhide Jake' Brighton brings one of the Old West's more controversial characters into the limelight in a solid, well-researched story… Learning the Ropes is a page-turner, but its real achievement is in the portrayal of a flawed human being whom the reader will eagerly cheer for."
—Michael Zimmer, Wrangler and Spur-winning author of The Devil by His Horns