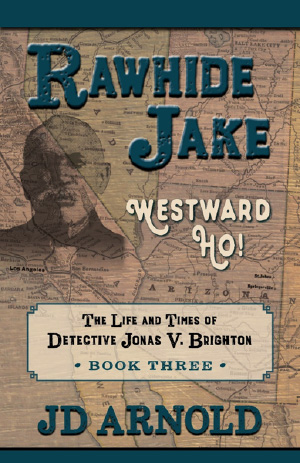 In Part I, Jake makes one last unsuccessful attempt to gain custody of his boys, which is overshadowed by a fight to the death with an adult bully who slapped his boys. He and Mary Jane say adiós to Texas and take up residence in Springerville, Arizona.
He changes his name to J.V. Brighton, is appointed Springerville District Constable, opens a blacksmith shop, and a saloon, and sits on several juries in the Round Valley town. There are shooting incidents he is either involved in directly or tangentially. J.V. is deputized and goes after Ike Clanton and Lee Renfro, who are two notorious desperados.
In Part II, J.V. and Mary Jane relocate to California. While working as a farm laborer J.V. gets in a knife fight and later breaks a leg in a riding incident. They relocate to San Francisco. He works a domestic case that brings him up against a ruthless mobster. They flee to Visalia, where they play a significant part in the arrest of California's most notorious outlaw of the day, Chris Evans. More quiet detective work in Los Angeles, then retirement in Orange County, where he passes at the age of eighty-one. He is interred at Los Angeles National Cemetery.
Rawhide Jake: Westward Ho! was published by Hat Creek on July 4, 2023.
Bookshop.org Amazon Books-A-Million Barnes & Noble BookPeople The Poisoned Pen