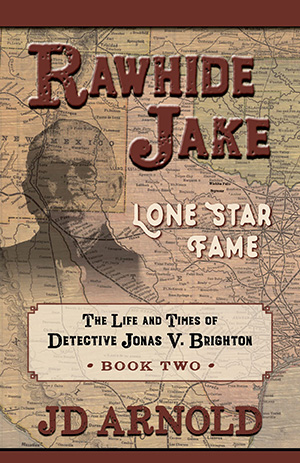 After the split with Wes Wilson at the end of Book One, Rawhide Jake works undercover at the huge Flying XC Ranch and manages to track down and arrest five rustlers. His reputation as a man to steer clear of grows throughout the region.
On the spring round-up, the dust of the herd fills his nostrils but he saves the life of the cow boss, Walt Guthrie. Jake falls in love with a married woman and later, upon the death of her husband, marries her. He and Wes hook up again, take down a four-man rustling crew where Jake is almost killed, start-up a fencing company employing Chinese laborers, and thwart an 800 head theft that leaves both of them wounded. Jake and the Chinese crew battle a range fire and a pair of drifters bent on raping and killing his crew and their wives. He kills a wanted murderer, is himself accused of murder, and jailed. He is released, but the insult prompts him to leave Texas for Arizona, which ends Book Two.
Rawhide Jake: Lone Star Fame was published by Five Star in October 2022.
Bookshop.org Amazon Books-A-Million Barnes & Noble BookPeople The Poisoned Pen
Praise for Rawhide Jake: Lone Star Fame
"Fans of Western novels, historical fiction, and prior readers of Rawhide Jake in Learning the Ropes will each find a compelling new saga to appreciate in Rawhide Jake: Lone Star Fame, which centers on Jake's ongoing encounters that take place after he splits from Wes Wilson in the first book. JD Arnold crafts a powerful saga set in the late 1800s, which incorporates the political, social, and psychological challenges of these times. Libraries and readers looking for Westerns that incorporate historical backdrops with a realistic attention to descriptive detail and the lives of those faced with numerous changing choices will find Rawhide Jake: Lone Star Fame a fine survey of life challenges in 1800s Texas. It concludes with the promise of another Jake adventure in another Western territory. The blend of history and adventure works seamlessly to create a vivid account that is enlightening and hard to put down."
—D. Donovan, Senior Reviewer, Midwest Book Review