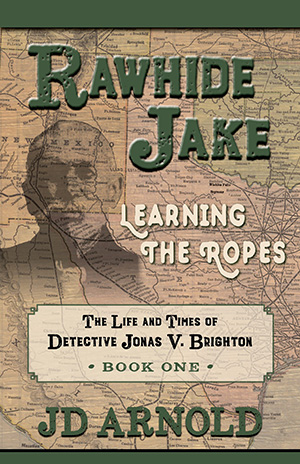 Read an excerpt from the book
Rawhide Jake: Learning the Ropes is the first book in a trilogy on the Life and Times of Detective Jonas V. Brighton. Based on a true-life character (1847-1928), it rolls through the adventure of his time in the penitentiary, his first years as understudy to a young and lusty female detective named Jennie Hudson, and learning cowboying and stock detective work with his new partner, Wes Wilson, in northwest Texas.
He and Hudson work two cases. One ends up in controversy and the other makes national news as they solve the Doctor Perry Talbott case. After that Jonas relocates to Texas.
Brighton is a marksman with pistol and rifle, a skill he gained from his Civil War experience. He kills a fellow in self-defense, gains a reputation as a man to avoid, and his partner, Wes, gives him the nickname "Rawhide Jake." The two of them roam the countryside, eliminating rustlers, saving each other's lives more than once, and recovering stolen cattle until they receive orders to go their separate ways.
Bookshop.org Amazon Books-A-Million Barnes & Noble BookPeople The Poisoned Pen
Rawhide Jake: Learning the Ropes was published by Five Star in March 2022. The book was a Western Fictioneers Peacemaker Finalist for Best First Western Novel of 2022 and recipient of a Five Star rating from Readers' Favorite Book Reviews.
Praise for Rawhide Jake: Learning the Ropes
"For whatever reason, Jonas V. 'Rawhide Jake' Brighton is one of those 'shadowy' figures who has (for the most part) escaped the bright glare of historical research and writing. That's why it's exciting that JD Arnold has finally lit the lamp of illumination on Jake's life—at least from the 1870s, when doing hard time is preparing Brighton for work on the other side of the law, as a stock detective and killer. Yes, it's historical fiction, but done so in an honest way that doesn't distort things. And the first book of his Life and Times of Detective Jonas V. Brighton is an excellent introduction to this Western mystery, a great story, well told. More than that, it sets the table for Book Two—and I can't wait."
—Mark Boardman, Features Editor, True West Magazine; Editor, The Tombstone Epitaph
"I love reading about the 'old West' and JD Arnold has created a beautiful and accurate picture of those early days. Rawhide Jake is the first in the series and I cannot wait to read Book Two. I was pulled into the story and so wanted to be there and meet all of the characters that were described. I would love this book to be turned into a TV show or movie. If you like western, Civil War-era history, or just good reading, then this book must be put on the top of your reading list—it is just that good."
—Trudi LoPreto, Reviewer, Readers' Favorite
"As JD Arnold's historical novel follows the life and times of the real Jonas Valentine Brighton, it provides a vivid story of the changing morals, challenges, and social order of the post-Civil War West. Arnold's exploration of Rawhide Jake's life, legacy, and reputation is an example of why historical fiction can prove much more compelling than nonfiction. The drama, motivations, and insights of Jake and other characters are nicely captured against the backdrop of ongoing confrontations that test their moral and ethical perceptions of their place in the world."
—D. Donovan, Senior Reviewer, Midwest Book Review
"It isn't often I have a chance to read good historical fiction, but on this one I've struck pay dirt. Author JD Arnold is a master storyteller. Much of Brighton's early years have been lost in time, but Jeff has done an amazing amount of research to write authoritatively on his life and times in Kansas and presumptive Texas adventures during the early 1880s. He's written a riveting, fast-moving, well-crafted story that had me hooked from the beginning. To borrow an old cliché, it's a real page turner. As for me, I can't wait for Book Two when Rawhide Jake gets into the fencing wars, hauls in more rustlers, marries his sweetheart, and then, in Book Three, heads for Arizona."
—Marshall Trimble, Arizona State Historian; True West Magazine's "Ask the Marshall"
"JD Arnold's debut novel on real-life stock detective Jonas 'Rawhide Jake' Brighton brings one of the Old West's more controversial characters into the limelight in a solid, well-researched story. Rawhide Jake: Learning the Ropes—the first in a proposed trilogy on the subject—introduces us to Brighton during his early years as an ex-convict who essentially falls into a career as a private investigator upon his release. The novel follows Brighton to Texas, where he finds employment as a range detective for Jim Loving, of Loving-Goodnight fame. Learning the Ropes is a page-turner, but its real achievement is in the portrayal of a flawed human being whom the reader will eagerly cheer for."
—Michael Zimmer, Wrangler and Spur-winning author of The Devil by His Horns
Read an excerpt
CHAPTER ONE
Kansas: Prison
"Prisoner ten-eighty. Name?" The prisoner took note that the man spoke in a deep, commanding voice. He sounded and looked like a person who was clearly not to be trifled with. He wore black trousers and a black coat over a plain black vest, a white shirt with a high turn-down collar, and a black tie in a large Windsor knot. The collar and cuffs of the shirt were bleached white, and the suit coat looked recently brushed. He wore a silver watch chain and fob on his vest. Except for a neatly trimmed but full mustache he was clean shaven, and his fingernails were dirt free. His well-barbered black hair was parted on the right side and brushed left and right from the part.
They were in a square room with stone walls and floor. One end wall had a thick wooden door in the center, and the other end had an iron-bar door. There was no heat, and the spring morning chill was in the room. The man sat at a small desk positioned to one side in front of which each prisoner had to pass. On the desk were two small piles of files, one on his left and one on his right. In the middle was a single open file over which he hovered a pen. He dipped the pen nib in an ink bottle to his front and poised to write.
"Jonas V. Brighton, sir," prisoner ten-eighty answered. The man looked up at the convict and studied him with shining, steady, penetrating brown eyes. Brighton noticed the man's facial skin was white with the shadow of a beard showing through. His mouth was set hard, and there were no laugh wrinkles, but, almost imperceptibly, just a hint of a smile showed. And then it disappeared.
"You may refer to me as Warden Hopkins, convict Brighton." His tone was reserved and icy.
"Yes, Warden Hopkins."
He returned his attention to the file. "Date and place of birth?"
"February 15, 1847. Portland, Indiana."
"That checks out," Warden Hopkins said as he checked a box on the paper in the file folder. He nodded to one of the guards, who held a measuring stick to Brighton's back. "Stand up straight," he said.
"Five foot eight and one-half inch," the guard announced.
"Okay. Husky build. Black hair. Look at me."
Brighton looked at the warden for one second and then dropped his gaze. He didn't want to cause any kind of a confrontation. He had been told many times by many others that his eyes naturally held a look of challenge in them, and so he was always conscious of that, especially at a time like this.
"Dark-gray eyes." The warden made a few more notations in the file and then said, "Grand larceny, eh?" Again with that penetrating stare. "What did you steal?"
"A span of mules and five horses."
"Why?"
"Needed them."
"Why?"
Although it was none of his business, probably best to explain. "Me and two other fellers were gonna start a freight hauling business between Dodge City and Wichita. I am a blacksmith and wagon maker and mule skinner by trade, so we had a wagon I made but needed the animals to pull it. I wanted to save up to buy 'em, but one day my partners showed up with the horses, and I went along with it. So I really didn't steal them per se."
"Uh-huh. And the mules?"
"Well, yeah. I stole them. Better to pull the wagon. But I am not a horse thief."
"Uh-huh. You are a mule thief then?" The warden cracked a slight smile and glanced at the guard, who was also smiling. Brighton smiled, too, even though he didn't think it was funny. What did the warden know about how hard it is to make do for a wife and three children when you ain't got a cushy job like him? Every once in a while when a feller is down to the blanket, he has to do what he has to do to get by. Besides, this is the first time he got caught, and he wouldn't have if it weren't for Meeks and Mills getting the fat in the fire.
"What about the escape from jail in Hays?"
"Yes, Warden. That's a fact. Caught us again in Ellis County. I am here to pay my dues, Warden. I won't be trying to escape or cause any trouble."
"Mmmm. Well, I see you have five years to think about it. That'll be a release in October, 1880. Might be a little earlier for good behavior. You can read and write?"
"Yes, Warden Hopkins. We had a country school near where we lived, and my parents sent us each year until we moved to Springfield. I went until I joined the army in '63."
"Union?"
"Yes, sir, er, Warden."
"How old were you when you joined?"
"Almost seventeen."
"Parents give you permission to join?"
"No, Warden. I ran away."
"After the war?"
"I apprenticed at Studebaker Brothers in South Bend, Indiana. That's where I learned blacksmithing and wagon making."
"When did you come to Kansas?"
"Sixty-seven."
"Wife? Children?"
"Wife, two boys, and a little girl, two years old."
Warden Hopkins made notes in the file, blotted the wet ink, then looked up and stared at Brighton for a minute. He nodded to the guard, who hooked Brighton's arm at the elbow and led him through the iron bars to the cell where the other newcomers waited. As he went his ankle chains clanked loudly.
The warden gathered up the small pile of files, stood, and addressed the prisoners in the next room through the bars. "Convicts, with the addition of your souls to this institution there are now three hundred seventy-nine prisoners housed here. I make it a point to process every new inmate because I want to get a look at you, each and every one of you. We have walls that are eighty feet high. All our correction officers are crack shots. I strongly advise you to not attempt to escape. You will not be successful and most likely be killed in the process. We observe the strict silence system here in Lansing. That means you are not permitted to talk among yourselves for any reason. No talking for any reason. Punishment will be meted out to violators. That is all. Enjoy your stay."
He turned and exited the room through the wooden door they had all come in through.
And we got a look at you, Warden, Brighton thought as he was prodded into the single file line of five inmates.
He was in the middle of the line as they shuffled and clanked their way through another iron-bar door where they were ordered to sit on a bench against one of the walls. There was another guard watching them through the bars. He held a sawed-off shotgun at the ready across his chest. Both guards were dressed in black like the warden minus the collar, tie, and watch chain. Brighton noticed their cuffs were a dull white and not bright like the warden's. The first guard said, "Unshackle yerselves, and leave them shackles on the floor." He tossed a key to the prisoner on the end of the line closest to him. With their handcuffs still on their wrists they each in turn removed the shackles from their ankles as ordered.
"Now with yer left foot slide the shackles across the floor. That's good. Now you, convict in front there with the key, unlock yer handcuffs and let 'em drop to the floor. That's good. Now with yer left foot slide 'em across the floor like you did the shackles. Yer other left foot, convict. There you go. See, you ain't all that dumb. Now each a you do the same down the line, and then you hand the key to me." He directed his last instruction to the prisoner at the end of the line closest to him.
"All right, on yer feet and turn to yer right." The guard went ahead of them and opened the door, stepped through, and said, "Let's go, convicts."
The guard walked beside Brighton as he herded the little group down a long, narrow corridor with barred cells on one side. He was a big man, tall and husky, with brown hair, brown eyes, and a calm face with no facial hair except for a mustache. "What was yer unit in the war?" he asked Brighton.
Jonas glanced over at the guard to be sure he wasn't falling into a trap of some sort. He ventured forth. "Twenty-first Regiment, Illinois Volunteer Infantry."
"Me, I was Second Kansas Militia Infantry. Jayhawker through and through." He smiled as if Jonas should realize the import of that revelation. "Too bad you gotta be in here."
"I survived Andersonville. I guess I can handle this place."[1]
"I heared a that place. Pretty damn bad from what I heared. How'd you survive?"
Jonas hung his head and said, "There was a group of prisoners who called themselves Andersonville Raiders. They went around and stole anything they could from the other prisoners, usually clubbing them to death in the process. Big Pete Aubrey formed up a group called the Regulators. I joined up with that group." Instinctively, Jonas glanced around to see if anyone was listening or watching. He continued, "We caught and tried the Raiders, and a jury set punishment. We Regulators took care of each other, and we did a lot to stop the Raiders thieving and killing. Guess that's how I got through. Being a Regulator." He glanced up at the guard, who was staring straight ahead.
"So, you saying that Union soldiers were attacking their own?"
"Yeah. It was pretty low down." Brighton went quiet, and so did the guard.
"My name is Rodgers. You need anything, you come see me."
They arrived at the cell block designated for prisoner 1080. "Make yerself at home," Rodgers said as he gestured for Jonas to enter the cell. Another prisoner was on his bunk and sat up when Jonas came in. "Bell, you show this fella yer fine Kansas hospitality. He's gonna be yer roommate for a while. But remember, no talking."
* * *
A week later prisoner 1080 stood with his back to a gray stone wall. He was in the hot and humid laundry supply room. He stood straight with broad shoulders laid back and muscular arms, made strong by years of swinging a blacksmith's hammer, hanging loosely at his sides. Yet, every muscle in his sinewy body was as taut as a drumhead. In front of him, three other prisoners, wearing, like he was, black and white stripes, formed an arc and pressed in toward him. Beads of sweat were on their foreheads and the backs of their hands.
He felt the sweat drip down his sides from his armpits as he focused on them, alert to the slightest threatening movement. It was a matter of pride with him. He would not touch his back to the wall because he was not about to allow these addle-headed snakes to think he was afeared of them. Well, anyway, two of them were snakes—skinny and slithery, each of average height. He was relatively unconcerned about them. Still, it would have been nice to have a pistol in his hand.
The one with a pox-scarred face was the giggler and stood on the left. The other snake on the right just drooled. But the hard case in the middle was big and looked like a bull all heated up and mean, straight out of hell. At least seven inches taller than Brighton, he glared down at him with black eyes full of malice. His brow was heavy and dark. His face was wide, and his jaw looked like a smithy's anvil. He smelled like death-a-coming. He was a killer for sure. Maybe a crazy killer.
"I heared yer been sidling up to the guards, Mister Jonas V. Brighton," the bull grunted like a feral pig. "That's yer name ain't it?"
"Reckon so." Brighton's steely dark-gray eyes turned stony, and he met the bull straight on, eye to eye, with a hot and intense stare.
"Yeah. Well, we think yer got things confused."
"How's that?"
"Yer must be a asinine dullard." The bull moved in closer, and the snakes on his flanks moved with him.
"Not necessarily."
"I thinks yer is," he said with a grin and twinkle in his eye. The stink of his breath from the rotten teeth he bared in the grin was enough to make Brighton gag, but he didn't.
"Yeah. We gonna get you straightened out," the left snake hissed with a big grin and the devil in his eye. "You gonna give us pleasure after Will here softens you up a bit." The other one started rubbing his hands together as if he were preparing to eat.
"An' yer gotta larn who's boss in here, an' that's me. If'n yer want to sidle up to someone it best be me. I takes what I want whenever I want it. So, we gonna give you a little sumthin' to help you 'member that. Then we gonna take what we want." He stepped closer.
"Best not bother me," Jonas said in a low and calm voice.
The bull gave a grunt and rushed in with his huge right fist cocked back to unload a massive blow into Brighton's face. He started the punch but never finished it. He doubled over, racked in pain from the kick Brighton delivered to his groin. He started to reel into the wall head-first, and Jonas stepped aside to let the massive body pass by him. He added to the momentum by pushing hard on the bull's back. When he hit the wall headfirst, there was a loud crack, and he fell slowly with his head sliding down the wall in an unnatural flop to one side. He was dead before he hit the floor. The two snakes stood with their mouths hanging open and their eyes as wide as saucers.
Brighton raised up straight and took a step toward the snakes. "If you want to live," he said again low and calm, "you better follow the prison rules and keep your mouths shut. You talk to no one about this. You got that?" he snapped. They both nodded their heads up and down. "Now git on outta here," he barked. They ran from the supply room in the laundry where they had cornered Brighton, and then he hurried out behind them trying to look casual. He checked to make sure nobody was around to notice their departures and double-checked for guards. Looked like he was in the clear.
Later in the day Rodgers walked up to one of the cells on the ground floor and said through the bars, "All right, Spivey, where's Teasley?"
The skinny pock-faced man was flat on his back in his bunk twiddling his thumbs. "Uh, I dunno," he said meekly. "Uh, I think he said a while ago he was headin' for the laundry." He shot a furtive glance at the guard and then quickly looked away.
"I'm lookin' for him. He missed supper. If you see him, tell him he better get in his cell now."
"Yes sir, boss."
Rodgers went to the dining hall first to make sure Teasley hadn't come in late for supper. He rounded a corner and unlocked an iron-bar door, then went into the hall that was full of long wooden tables with attached seat benches. It was void of personnel. He crossed to the kitchen door and shoved it open. "Anybody seen convict Teasley?" he hollered. There were men working at the sinks and stoves, but they all shook their heads or answered no. Now Rodgers was getting a little nervous and thought about sounding the alarm. Might be an escape. He thought he would check the laundry first just to be sure.
It not being a regular wash day, the laundry, too, was empty. He walked around the big hampers full of dirty and clean linen poking them with a mop handle in case the big ox was hiding in one of them. He called out, "Teasley! You in here? Better come out if you are." And then he noticed the supply room door was ajar. He stepped carefully over to it and swung the door open. Rodgers stopped dead in his tracks when he saw the huge lump of black and white stripes on the floor against the wall. Slowly, reluctantly, he came around to the side where he could see the face. No doubt about it. He was dead.
Rodgers fished his watch out of his vest pocket, flipped open the cover, and noted the time—1805 hours. Too late now. The warden was gone for the day, and his rule was that he only returned to the prison if the governor or a director of the prison board showed up for some reason. Not even a break-out attempt, successful or otherwise, or a conflagration or riot could force his return. Deputy Warden Hanks was in Wichita. So, Rodgers walked back to the guard station, and, after explaining what he found, he said, "Gimme that stretcher. I will need at least four strong convicts to carry him outta the laundry to the morgue."
Finished with the removal of the corpse, Rodgers said to one of the guards, "Come on. I need to fetch Spivey and Hicks outta their cells." He took the inmates to the laundry supply room and pressed both of them against the wall where Teasley died. "Now, I'm gonna give you one chance to tell me what happened here. If you lie to me, you will dearly regret it. So, Hicks, you go out there with Mister Hadley. When I am ready for you, I'll bring you back in here." He squeezed Spivey's arms tight against his sides so that Spivey's pocked face twisted in anguish. "Now, tell me from start to finish what happened." Rodgers let go of Spivey's arms.
"Sheesh. You could a busted my veins," he said as he rubbed his biceps up and down.
"Talk." Rodgers speared Spivey's eyes as he looked away to the floor.
"What makes yer think I was even here to see the killin', huh?" He looked a challenge into Rodgers's eyes. "I was never here atall."
"Who told you there was a killin' here?"
"Wal … you did."
"No. I never did. So, how'd you know there was a killin' here? Because you were here and saw it. That's how. And you know who got killed, too. Because you were always attached to him like a Siamese twin. Where he went you went, didn't you?"
"Who you talkin' 'bout?"
Rodgers grabbed Spivey by the coat front and pressed his forearm into Spivey's Adam's apple so that it cut off his air supply. He let him start to turn blue and then said, "Now are you gonna quit wastin' my time and talk?"
Spivey's eyes were popping out, and his mouth was trying to gasp for air like a fish out of water. But he managed ever so slightly to nod his head. Rodgers released the pressure, and Spivey bent over, coughed, sputtered, and sucked in big gulps of air for a good two minutes. Through his stringy brown hair hanging over his face he looked up sideways with hate in his eyes. Rodgers ignored the look, cocked his head, and with his eyes indicated for Spivey to start talking.
"Wal. It's hard, yer know. Rattin' off 'nuther convict."
"Harder than six months in the hole?"
"I wanna talk to the warden afore I say 'nuther word."
That evening Brighton sat on his bunk in the cell he shared with another prisoner named William Bell, who sat across from him. It was late, and the two of them were somewhat obscure figures in their cell in the shadows cast by the newfangled arc lamp further down the corridor outside the cells.
"You hear about the murder today?" Bell whispered like it was big news.
"I heard," Brighton growled in a hushed tone as he sat on the edge of his wood plank bunk and twirled a strand of cornhusk that leaked from the hole in his mattress. He fell back on the bunk, and the husks in the mattress crackled like popping corn in a hot skillet over which he said quietly, "Best keep quiet 'less a guard overhears you jawin'."
"I know. Just big news is all. They can't hear us whisperin' like we are."
Jonas rolled over with his face to the wall and did not answer. He hoped his cellmate would shut his trap. He was certain the guards would like to use the strict silence system as an excuse to whip up on violators.
"Heard anythin' about who did it?"
Brighton jumped up from his bunk and, in his stocking feet, padded to the bars of their cell. He craned his neck to see left and right. No guard in sight. So, he tiptoed to the center of the cell between the bunks and whispered, "You better shut up, or you are goin' to get us in the hole."
"Sure." Bell stayed quiet for all of two minutes. "Things are gonna change around here now that big Will Teasley is dead. I wonder who'll step in and take charge."
"Maybe his two reptile lackeys," Jonas whispered.
"How'd you know about them? You only been here a week."
"I got eyes. I watch things real close. And I take care of things. Don't forget that."
"What's your meanin'?"
"Better hope you are never obliged to find out."
He got up and checked again for guards. "Must be playing poker down at the end," he muttered, then continued, "Now that's it. No more talk." Jonas pulled off his coat and pants and hung them on a peg on the wall and flopped back onto his bunk and pulled the blanket up to cover his shoulders.
In the shadow of the night, flat on his back, eyes wide open, Brighton was thinking. If it hadn't been for Meeks and Mills, he might not even be there. Then again, how was he to know that farmer had tattooed the inside of the lips of those mules? Took that farmer three months to find those mules, and here he was in a zoo because of it. A zoo full of animals like Will Teasley. What an ape. Him and all the ones like him and those two snakes in the prison were very bad men and needed to be killed. Beating and buggering men. They all should be hanged out of hand. Bad men. Worse than the raiders at Andersonville. Teasley had prodded the wrong man.
---
[1] Andersonville, Georgia, was the infamous Confederate prisoner of war camp officially named Camp Sumter, where nearly thirteen thousand Union soldiers either starved to death or died of communicable diseases or disease related to unsanitary conditions. There was little or no clean water or food, no latrine and no bathing facility. The prison opened in February, 1864 and was liberated in May, 1865.